In recent year, Mini LED has undoubtedly emerged as a new sector where LED companies and panel vendors actively enter. The reason is that the traditional LED backlight has been developing for many years, reaching a bottleneck in technology; the profit is relatively low as well. Meanwhile, OLED displays, which feature thinness and flexibility, are invading into the backlight display market. As the result, manufacturers that do not worked on OLED displays have turned to the development of Mini LED, a new product that is highly competitive in terms of function and cost.
After nearly two years of development, Mini LED technology will be able to directly compete with OLED in the display sector this year. In terms of their features, Direct-lit (Direct Illumination-type LED Backlight) Mini LED enables local dimming, which is comparable with the high contrast of self-emitting OLED. Direct-lit Mini LED can also be adopted to make highly curved display, which is a selling point to compete with OLED displays. In terms of profitability, the costs of a Direct-lit Mini LED TV will be 20~30% lower than an OLED TV, which may help TV vendors gain more profits.
Due to the above reasons, AUO and Innolux, the two major panel manufacturers in Taiwan, have made use of their resources of backlight module factories to work hard on developing Mini LED backlight solutions in recent years. They hope to maximize their profits by creating differentiated display products using their own panels.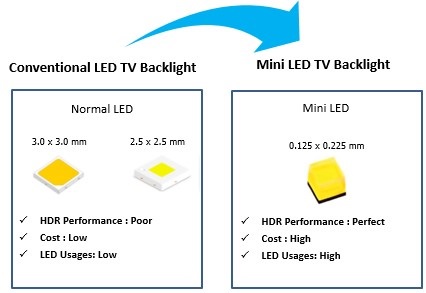 (Source: LEDinside)
AUO works on Mini LED backlight, aiming at gaming monitor market
The use of Mini LED can increase the number of local dimming zones, improving the color and contrast of LCD panels. In this case, a large number of LEDs will be used. For example, in a Direct-lit 5.5-inch mobile phone panel (OD ≧ 2mm), about 2000-5000 LEDs will be used. If the phone is made thin, the estimated number of LED used will double. Taking desktop monitor as another example, a 14-inch notebook panel will use as many as 6000-7000 LEDs in order to achieve higher contrast.
However, as the number of LEDs used increases, manufacturers need to overcome the heat dissipation problems that come along. In addition, more local dimming zones require higher number of LEDs, increasing the number of ICs used as well. At the same time of improving panel performance, the costs have also increased significantly. This means that display products using Mini LED technology must be priced above US$1,000 in order to bear the high costs of Mini LED.
Therefore, AUO's strategy of promoting Mini LED is to target at gaming market and professional products that have high requirements of specification and color accuracy, but are not that sensitive about price. AUO has planned to ship the products in the second half of 2018.
Innolux develops Mini LED backlight solutions for automotive display market
Different from AUO, Innolux has adopted the Mini LED technology to automotive market first. Innolux announced in 2018 CES a 10.1-inch AM MiniLED backlight solution for automotive displays. The product uses Direct-lit with high contrast instead of conventional Edge-lit (side-edge type LED backlight), in order to increase the clarity of screens and to enhance driving safety.
From a technical point of view, AM MiniLED can achieve precise control of current, increasing the luminance under bright state over 1000 nits, which is an advantage over OLED displays; on the other hand, the luminance under the dark state is close to zero, thus making the contrast as high as 1,000,000 : 1. This will present clearer and brighter image to the users, and the image will have higher visibility especially in the sunlight, improving the driving safety. In addition, Innolux combines AM MiniLED with flexible substrate to provide the best solution for backlights in notch/curved LCDs.
In automotive applications, AM MiniLED can achieve the same level of contrast and sharpness as OLED, and is even better than OLED displays which are not high temperature resistant enough. AM MiniLED also has other advantages over OLED such as longer life and no burn-in problems. Innolux is optimistic about the trend of self-driving cars, electric cars and networked vehicles. The company will also develop AM MiniLED backlights based on flexible substrates, with notch or curved LCDs to meet customers' needs of design and appearance. This will also assist the company in developing products for concept cars in the future.
(By Max/LEDinside) read more details:https://www.ledinside.com/news/2018/5/latest_development_in_the_industry_mini_led_oled_go_head_to_head_this_year_ledinside_says